Postcards of St Ives Cornwall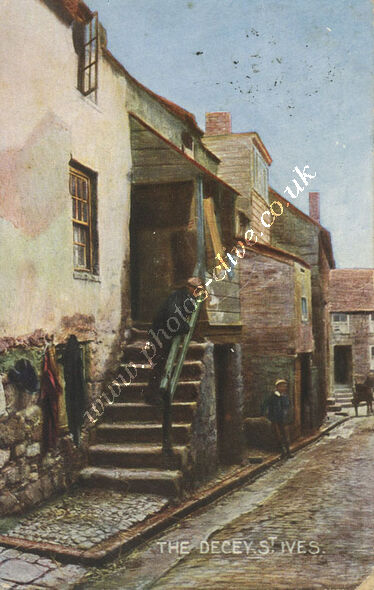 Man posing on staircase with young boy posing outside the building to the right, which has been extended upwards since a similar postcard of 1902. The window frame above the porch building has been removed. This card is from St. Ives? To Colchester and stamped Cardiff. The writing is tiny and can only be read with a magnifying glass and starts with an acronym and appears to be from a man to an unmarried woman.
To Miss Kiddle, C/o Mrs Martin, 94 Hythe Hill, Colchester. MO&ODSL Then a series of unintelligible hieroglyphs before 1.8.05. Have nearly finished up opening kit? this evening, I escaped design? you think it has been a long time about, so it has, but we have been so busy lately, that we have not been able to do anything to it in the daytime, Lid is in love with it, she says she is going to give me notice to clear out of it and she will stay here. I'm not the shavely? In that case. Hope you like this postcard although the picture is hardly large enough to share the whole design, if you would like to all it on the wall dessie? You had better come down on Friday instead of going away from me my dear for pool yesterday. I have had a good deal of looking ? Diaries...frizzles out and unreadable.
Ref: 10010
Date: 03/08/1905
Location: The Digey (Decey), St Ives, Cornwall