Postcards of St Ives Cornwall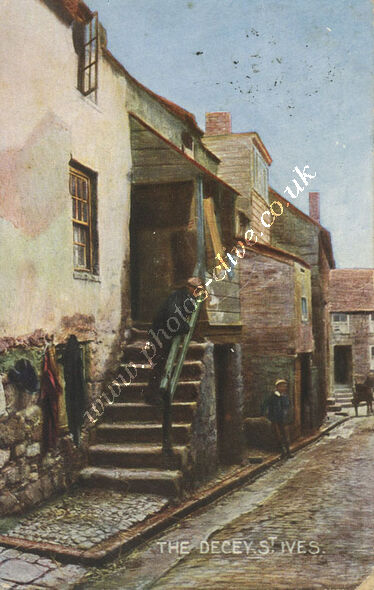 Man posing on staircase with young boy posing outside the building to the right, which has been extended upwards since a similar postcard of 1902. The window frame above the porch building has been removed.
The "London NW" of the address has been added in pencil, possibly by the Post Office. The card either went to Ilford without stamping and stamped there or the card was taken home to Ilford before posting it.
To, Mr H. Masters, 112 Kilburn Lane, Queen's Park, Harrow Road, London NW. Dear Bert, just a line t say it was all over at 9.35 and have settled all arrangements, hoping you are going on all right as it leaves us a bit down, but I must keep Lill's pecker up. Love from us both, Jack. Have not seen Spuurr? Yet.
Ref: 10002
Date: 03/08/1905
Location: The Digey (Decey), St Ives, Cornwall